30 Women Creators We Love Part I #30WCR8
Monday 02 June, 2014
If you are reading this, you probably already appreciate how art captures what everyday language alone cannot express. For centuries, women across the world have used art as a tool to express their own radical truths despite the boxes, expectations or limitations other would impose on us and have us conform to. It's in this […]
If you are reading this, you probably already appreciate how art captures what everyday language alone cannot express. For centuries, women across the world have used art as a tool to express their own radical truths despite the boxes, expectations or limitations other would impose on us and have us conform to. It's in this spirit of freedom that I Am The Nu Black, African & Afro-Diasporan Art Talks and Live Unchained came together to acknowledge 30 inspiring black women creatives from across the diaspora. We believe their art matters and can inspire cultural consumers to view themselves, their communities and women's voices in new ways. The artists and creative works you'll see over the next week on each of our websites are unique, provocative and captivating. Like the three organizers of this event, Gabrielle, Sharon and myself, we know you won't want to keep all this beauty to yourself. Follow along with the hashtag #30WCR8 at on Facebook, Twitter, Instagram and Tumblr for more creative inspiration and conversation.
Today, we are proud to launch 30 Women Creators #30WCR8 with 5 amazing artists who have been featured on Live Unchained.
Peju Alatise
"The Unconscious Struggle"
Peju Alatise is a Nigerian artist who works in various genres including painting, sculpture, installation and literature. Her artist statement proclaims: "I am an alien/sojourner. Sent to this part of the world to work my work. Orun meni tomala agreed with me, master artist to prodigy, that an experience on this planet called earth would be what I needed to find a part of myself." Learn more about this beautiful, powerful and inspiring alien at www.pejualatise.com.
Michelle Robinson
"Dai"
Michelle Robinson is a self-taught California-based artist whose bright paintings and statement making fashion has garnered her a devout following and customer base. Michelle's work has been described as exploring "bold contrasts, color palettes, patterns and the female form. Her figures float gracefully upon an intricate background comprised of overlaying rhythmic patterns and tantalizing color harmonies." Learn more about this beautiful spirit, artist and designer at: www.create-ture.com
Delphine Fawundu
"Nneka"
Delphine Fawundu is an unparalleled photographer whose work we describe as "aesthetics as activism." Having developed creative projects in several countries across Africa, Europe and Latin America, she shows viewers the raw beautiful realities tourists miss, but travellers live for. Delphine's photography reflects her, "[interest] in exploring identities through cultural expression. A hip-hop head at heart she has been documenting this culture since 1993 through photography, video and words. She launched her career documenting hip-hop culture for The Source and Vibe Magazine. Delphine is currently working on a multi-media project surveying African youth music and urban culture. She embarked on this journey particularly interested in hip-hop as a use for social change, the lyrical dynamics, style, and the various approaches to it's musical production." Learn more at: www.delphinefawundu.com.
Jepchumba
"Attack of Jepchumba"
Of this woman, our immediate inclination is to say: "All hail Queen Jepchumba." She is the beloved Godmother of African Digital Art with a beautiful, finely curated platform of the same name. Constantly evolving, Jepchumba "loves experimenting with motion, sound and various digital effects and techniques and has an extensive background in digital art, web design and development, audio/visual production and social media strategies."
Kenya (Robinson)
"Cheeky LaSHAE"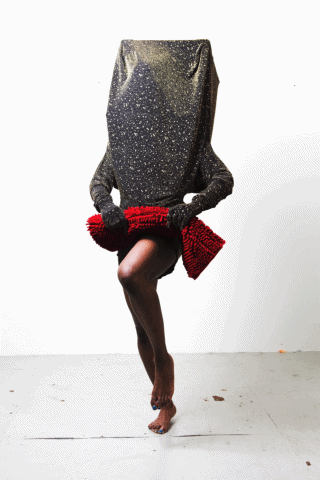 Kenya (Robinson) is an alleged "emerging" artist (although we're still not sure what the criteria for emerging really is and who gets to define what that means – there are several artists who are well known in their communities whose opinions we believe are just as valuable as those of wealthy gallery owners). She is untethered to an institution or genre, but much of her work can be described as performance or conceptual. "Artist Statement No. 032714″ is a work of art unto itself:
I have been blessed with the privilege of blackness and femaleness, and sometimes, queerness on Karaoke Thursdays, or even on a regular Monday when the Rainbow is Enuf. My neighbors-in-otherness, borrowing sass and sugar from next door to spice the "T" we can all serve on the regular. I am fiscally a member of the working poor and culturally a member of the shrinking middle class. A graduate of an Ivy League University, I am also a college dropout. Go figure.
But ultimately I am an artist whose personal contradictions are not simply confusing, but fodder for my in-and-out-of-studio practice. I use social media, the comment thread cacophony of 'the internets', google alerts, information doppelgangers, contact microphones, contact paper, oil pastels, corduroy crotch shots, chalk, ink, combs, plastic action figures, the mythologies of identity and blonde hair as material to create experiences. Someone once told me that I was "all sparkle and no substance". I was so shocked at it's timing that it took nearly two hours before the tears fell, but now I think it a fitting description. You can't hold love in your hand either. And that's what I'm really serving. All "T", no shade.
How does Kenya stay so dedicated and bold? In her HuffPo article in which, she deftly critiques Kara Walker's Dumbo exhibition and Beyoncé's butt cleavage, she explains: "Fortunately, my black ass has been gifted with zero fucks and zero dependents (spellcheck: defendants), so I can fully articulate what I think about the sugar sphinx at Domino, or more generally, those tooted (spellcheck: rooted) up butts that have predominated our Facebook, Twitter and Instagram feeds — damn, I live for composing on the iPhone –since the middle of 2013." Learn more about Kenya at: http://kenyaworkspace.blogspot.com/
Written by Kathryn Buford
Related Posts